Removing Underground Oil Tanks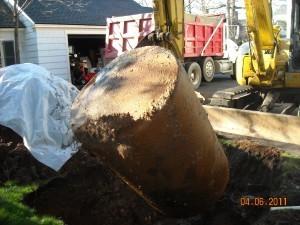 Old underground oil tanks can be costly for homeowners if there not removed before there is an issue.  There are many myths surrounding oil tanks. Learn the truth to keep the environment safe and your money in your pocket:
Myth: Tanks Are Invincible: 
Many homeowners are under the impression that 
metal oil tanks
 will never wear down. Unfortunately, this myth is far from reality. There are many factors which can cause potential leaks.
Once a leak
has occurred, professional oil tank removal services should be contacted immediately; a speedy repair can help to minimize environmental damage.
Myth: Inspections Are Scams:
Tank and soil inspections should never be written off as scams. These tests provide helpful data that a professional team can use to diagnose a leaking oil tank. Plus, these tests allow for early detection and quick containment of a new leak. Check out a company's license, insurance, and references before signing a work order. You can even check the company's Better Business Bureau page for extra details.
Myth: Tank Removal Is Pointless:
The consequences of abandoning an oil tank are immense. In the short term, a tank leak can ruin a property. If left unchecked for a period of time, leaks can reach deep into local ground water, poison nearby streams, and obliterate natural habitats.
Qualified Tank Services is a trustworthy Oil Rank Removal in Middlesex that serves the New Jersey area. You can count on our technicians for speedy, reliable oil tank services. Call us today at (877) 875-2010 to learn more about our services and how to manage your oil tank. Also check out our oil tank fill article!